We want to make learning Haitian Creole simple and free. That's why we're building an online library of phrases and pronunciations. We're here to answer your questions about the country, culture or the language – ask anything.
We also bring together all the best free resources for learning Haitian Creole on the Internet. Leave us a comment to tell us about a new resource.
About Miss Estherline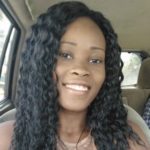 Estherline Dessime lives in Port-au-Prince, Haiti. Even with a difficult life, she maintained a desire to help others – especially children. She is the mother of one daughter and they dream of someday visiting America. Haitian Creole is her native language, but she is also fluent in French.
You'll hear her beautiful voice on our original Creole Pronunciations.